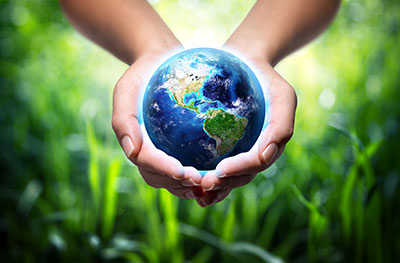 A smaller ecological footprint is to everyone's advantage – and you can count on Konica Minolta to lead the way in making toner cartridge and consumable recycling simple and cost-free. Whether you have a single Konica Minolta desktop printer, an entire fleet of bizhub MFPs, bizhub PRO or bizhub PRESS production print equipment, you'll be able to recycle toner cartridges and consumables – including waste toner boxes, imaging units, developer or developer units and drums – in a simple way.
For our small and home office customers. Single consumable items can be recycled by printing a postage paid UPS label here. Simply apply it to the new box containing the used consumable item and ship via UPS.
For our mid-sized customers. A recycling box designed to hold 10 – 15 items (consumables only, not shipping materials) can be ordered here. Just assemble the box and the reusable lid and place it in your office. When the box is full, you can print out a UPS label from this site, apply it to the box and ship via UPS. Please note: only Konica Minolta Clean Planet boxes can be accepted.
For high-volume customers. Konica Minolta can arrange for the delivery and pickup of recycling pallets that hold a larger quantity of consumable items (not shipping materials).
For our Optimized Print Service customers. For customers who have devices managed by our OPS program, most models already include a process for printing out postage paid labels. Please continue to use this process to ship back consumables.
For customers who recycle a large volume of Konica Minolta consumables, on an ongoing basis, you may want to consider a pallet sized box to be installed at your location. Please contact your Konica Minolta sales representative for more details regarding this service.
Please recycle efficiently. Since Konica Minolta toner bottles are made of a material designed for recycling in local facilities, Konica Minolta cannot accept shipment of these empty bottles. Please check the rules of your municipality for specific information.
Konica Minolta branded consumables ONLY please! If you have printer/copiers from other manufacturers, we encourage you to take advantage of their recycling programs. We reserve the right to recover costs for unauthorized items returned using our program.