Document Management
Overwhelming mounds of paper and hours of filing can now be reduced to the push of a button!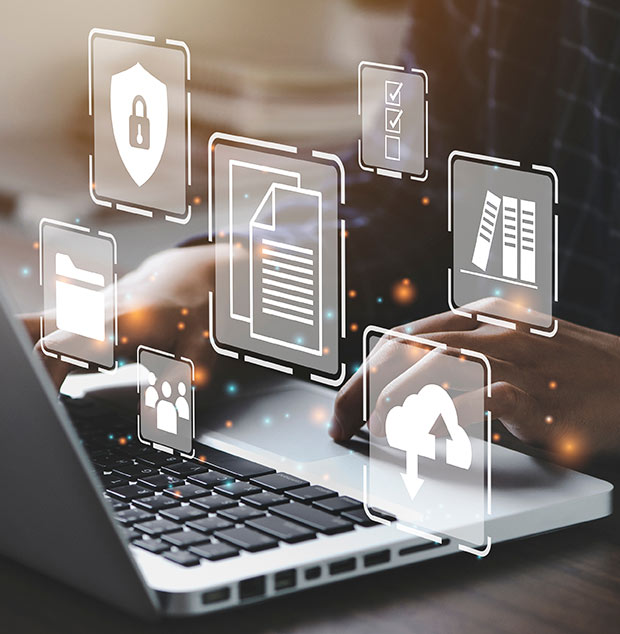 How it works
---
Why electronic, and why now?
How many times per day do you do something with a paper document, form or file? We print, fax, email, copy, file… and then do it all again. And when it's all said and done, what do we do with those papers and files? Some get stored for future retrieval and reference and some just get destroyed. But the fact remains that no matter what gets done, it's going to cost money. Whether it's the cost of properly shredding/destroying documents or the cost of files, cabinets and storage space, paper document handling can rapidly become a major component of any farm's overhead.
What if everything covered above could all be done from a computer without ever having to print, copy or physically route a document or file for the next employee or executive to view? What if every employee in the company could have concurrent access to every file in your cabinet – without ever having to leave their desks? What if you never had to worry about someone forgetting to return a document to the right file or remembering to file that folder back in the right drawer? Imagine the hours and dollars that could be saved if this were all handled automatically by a customized system that knows your company's filing rules and routing guidelines. If you can imagine the simplicity of such a system, then you've just made the first step towards understanding what electronic document management could mean for you.
How can BOSS help me?
Simple. The idea of implementing any new computer or software system can quickly become overwhelming. It's not just a software solution you buy, load on your computers and all of a sudden everything is paperless. There are stages and proven sequences that will allow a smooth transition for all involved with no disruption in your company's production and a rapid integration of the new system into existing workflows.
Since entering the document management arena, BOSS has customized solutions for hundreds of specified challenges that our customers have presented. As a matter of fact, every implementation we have done to date has paid for itself in savings within six months of execution, on average.
With over 15 years of combined knowledge, BOSS will guide you through the process with support every step of the way to ensure the end result is what was initially envisioned. Our staff will conduct a full workflow analysis to help identify how and where such a system could most immediately be utilized for simplified and increased productivity in your setting. Our trained programmers will then customize the applicable software to your needs and specific document routing lines, rules and regulations.
The expertise of our highly trained technical staff at your disposal can mean the difference between a customized solution smoothly implemented and into use throughout your company or a box of software sitting on your shelf. Which would you prefer?